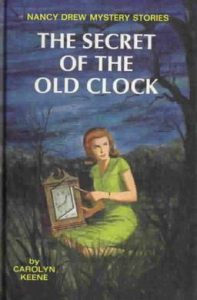 The libraries celebrated the anniversary of the 19th Amendment with a special focus on identifying books and papers of remarkable and representative women, expanding our special collections to fill lacunae that reflect previous cultural and historical preferences. One such collection came to us from Anita Avery, a friend from The Wodehouse Society. This lifetime collection includes complete runs of the Nancy Drew titles as well as updates of original sets, covers, spine wrappers, and ephemera. Nancy was a product of the Edward Stratemeyer Syndicate, which helped form the reading habits of generations of American girls and boys. Noted Professor Elizabeth Covington, Women and Gender Studies: "Feminist and literary scholars at Vanderbilt and beyond would very much like to be able to use these texts in their research and in the classroom. Indeed, the prospective acquisition inspires me to create a Women's and Gender Studies course that analyzes literature about and for young women from the late nineteenth century and reaching into the twenty-first century. I am certain that other teachers in WGS and English would be thrilled to include this collection in their courses."
Other series included in this important donation include:
Cherry Ames, designed to encourage young women into nursing to aid the shortage of nurses in WWII.
Judy Bolton, based on a young Pennsylvanian woman, the heroine of a series written by Margaret Sutton. The collection includes never-before published letters between the donor and author.
Vicki Barr, a post WWII "career woman," a flight attendant who managed to solve many mysteries along the many miles.
The Dana Girls, lesser known "cousins" to Nancy Drew in the Syndicate stable. They were two sisters, 14-15, daughters of a sea captain, who therefore lived at a boarding school, solving mysteries, of course.
The Pollyanna Series, an earlier non-Stratemeyer series.
And the Trixie Belden series, which featured a group of five boys and girls ages 12-15 who lived in the Hudson River Valley.