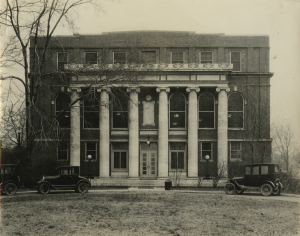 In 2019, Peabody Library celebrated its 100th anniversary. The following is a much abbreviated overview of the presentation given at the centennial celebration by David Golann, librarian for psychological sciences and special education. He reviewed briefly the circumstances of the library's founding.
George Peabody College for Teachers opened at its current location in the summer of 1914. The college, which at that time could trace its founding back almost 130 years, was beginning a period of unprecedented growth and change. But in that first year only two campus buildings were complete, and the most pressing need was for additional buildings, including a dedicated library to house Peabody's large and growing book collection. Bruce R. Payne, the president of Peabody, was casting out to find donors for what he envisioned as a grand new library.
The natural first stop was Andrew Carnegie, then famous throughout the world as a benefactor of libraries. In 1912, Payne had begun an extensive correspondence with James Bertram, Carnegie's brisk, indefatigable secretary who was gatekeeper to Carnegie's munificence. Carnegie, however, had since the turn of the century given more than $1 million to Vanderbilt's medical school and had funded four public library libraries in Nashville (including the main branch). He felt he had done enough for the city. Payne's persistence, and the petitions Payne procured from notables such as Helen Keller and former Secretary of State Elihu Root, eventually changed Carnegie's mind. In 1917, he committed $180,000 to the construction of a new library for Peabody College. It was to be the last and largest donation Carnegie would make toward the construction an academic library.
Payne asked Bertram for advice on an architect, and Bertram recommended Edward L. Tilton, a New York architect who had designed several other Carnegie Libraries, including one in Springfield, Massachusetts that was widely praised and imitated. Tilton was recognized for his practical, attractive designs and (not least important) his ability to keep projects on time and within budget. Tilton also subscribed to Carnegie and Bertram's philosophy of library architecture, which eschewed the elaborate designs of the 19th-century book palace and instead worked to promote the helpful, bustling environment of the well-stocked and efficient 20th-century research workshop.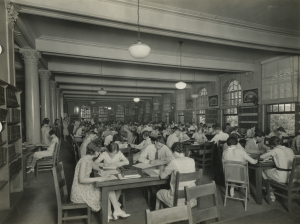 The exterior of the building was modeled, like the rest of the Peabody campus, on the red-brick classicism of the University of Virginia (Payne's alma mater), and Tilton's facility with the eclectic Beaux-Arts style made the library—though not as grand as Payne had first envisioned—harmonious, unpretentious, and enduring. The design of the library interior, with its large, well-lit reading room, capacious stacks, and ample space for classes and additional collections, has proved its value for more than a century.
May 30, 1919, was something of a holiday on the Peabody campus, as students, staff, and faculty alike helped move some 45,000 books from temporary storage into the new library. The intervening years would bring many changes—notably the merger of Peabody with Vanderbilt in 1979—but the oldest library on the Vanderbilt campus remains testament to Payne and Tilton's vision, and Carnegie's generosity.