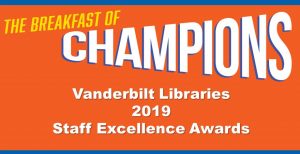 Established in 2017, the Vanderbilt libraries' Staff Service and Excellence Awards recognize and celebrate staff, professional librarians and teams for exemplary service to the university and libraries. While the dedication, creativity and hard work of all library staff are vital to the success of the university and the libraries, there are times when a person or group goes above and beyond, deserving special recognition. The Staff Service and Excellence Awards program not only recognizes the important work of library staff, but raises morale and contributes to a sense of community. Three awards are given annually in February for the previous year.
The University Librarian's Award recognizes a library assistant, associate or support staff member who made a difference in a library or department.
2019 recipient: Ben Darling, library services coordinator, Walker Management Library
The Jean and Alexander Heard Award for Distinguished Librarianship honors a professional librarian for distinguished service and leadership.
2019 recipient: Rachel Lane Walden, health sciences informationist in the Annette and Irwin Eskind Family Biomedical Library and Learning Center
The Friends of Vanderbilt's Libraries Award recognizes the work of a team, committee or task force that developed and followed through on an idea resulting in streamlined workflows, cost savings, enhanced services or boosted morale in a department or library or across the libraries, while also recognizing collaborative work and collegiality.
2019 Recipient:  The Acquisitions and Eresources Team. Members: Suzanne Bell, Angel Craddock, Erin Loree, Sheranda Lee, Monica Sanchez, Chris Waldrop, Mary Ellen Wilson, Yan-Xia Zhong
Rachel and Ben each receive a $1000 award, and the winning team gets to spend up to $1000 for a team outing.
In addition, Dale Poulter, director of library technology and digital services, received a special award for his leadership in the migration of the library catalogue.
Congratulations to the 2019 award recipients!