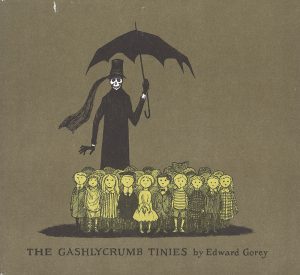 Vanderbilt University Special Collections is fortunate to hold a small collection of works by American illustrator and writer Edward St. John Gorey (1925-2000). Gorey rose to prominence in the late 1950s for his macabre slant on humorous fiction featuring Victorian and Edwardian settings. What better time to share these fascinating treasures than at Halloween?  The libraries did just that last fall 2019 in the exhibition G is for Gorey.
A major commercial illustrator, Edward Gorey established Fantod Press in 1962 to publish his own works as he continued his freelance commercial work.  Gorey's interest in the theater led to his involvement in several off-Broadway productions which included the design of a production of Dracula for a small theater on Nantucket Island.  Opening on Broadway as Edward Gorey's Dracula, the production brought Gorey major commercial success and two Tony Awards, for Best Revival and Best Costumes.
In 1980, he gained a national following after his artwork was animated and used for the opening titles of PBS's Mystery! television series. Many of the items in Vanderbilt's Gorey Collection were donated over the years by Dean Emerita Connie Vinita Dowell.