We are grateful to the Joseph L. May History of the Print Fund and the Sam Fleming Southern Civilization Fund for their support of the recently acquired limited-edition pop-up artist's book by Kara Walker (American, born 1969), Freedom, a Fable: A Curious Interpretation of the Wit of a Negress in Troubled Times.
The bound volume contains offset lithographs and five laser-cut, pop-up silhouettes on wove paper.  Published by the Peter Norton Family Foundation in 1997, the book was designed by David Eisen and bound by Roswell Book Binders in an edition of 4,000. It was released about the time that Walker was awarded a MacArthur Fellowship (she was the second youngest to receive the award). Walker works at Rutgers, where she is head of the art department.  She often uses silhouette technique (as here) and other 19th century forms of communication to portray images of repression.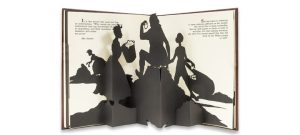 When asked about the possible acquisition, Vanderbilt University Professor Leonard Folgarait noted, "I enthusiastically endorse the acquisition of Kara Walker's Freedom, A Fable, to be purchased and housed in Special Collections. This is clearly an opportunity that should not be missed, given the stature of Walker and the unique qualities of this item." By acquiring and spotlighting important works by African Americans, women, and/or indigenous artists and authors, Vanderbilt University Special Collections can directly support the university's mission by including voices that directly address—and sometimes counter—the historically dominant voices and narratives about human experience in America and across the world in recent centuries.
Freedom, a Fable is in the collection of the Metropolitan Museum of Art, Princeton University Art Museum, and the Toledo Museum of Art. The acquisition was on display with Walker prints from the Gallery in the fall exhibition, Sympathetic Magic: Works of Faith, Healing and  Transformation.