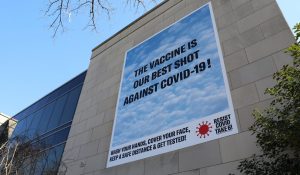 This fall, the libraries were pleased to be part of an important university instruction project: Engine for Art, Democracy and Justice.  The class was conceived by Maria Magdalena Campos-Pons, Cornelius Vanderbilt Chair and professor of art. Vanderbilt, in collaboration with Fisk University, Frist Art Museum and Millions of Conversations, hosted a series of virtual conversations and artistic collaborations focused on healing at a time of significant social unrest.
As part of the classroom activities, the  initiative brought two examples of Carrie Mae Weems' RESIST COVID TAKE 6! public art campaign to Nashville, with banners unveiled at Vanderbilt's Fine Arts Gallery, the Central Library, Fisk University's Carl Van Vechten Gallery and the Frist Art Museum in September 2020. Weems' series draws attention to the racial inequities exposed by the COVID-19 pandemic. With the arrival of the COVID-19 vaccine, artist Carrie Mae Weems created a new image for partners in her project RESIST COVID TAKE 6!
From Carrie Mae Weems Studio:
If we are lucky, we are now entering the home stretch!… The hope is that we will encourage another level of reflection as it relates to the vaccine. With your continued help, we'll beat this thing!