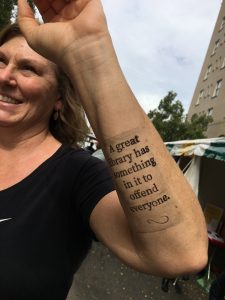 The Southern Festival of Books, held in downtown Nashville since 1989, is a great event for the city and a easy way for
Vanderbilt libraries to promote reading and spread the word about its services to the community.
In 2019, the Vanderbilt libraries brought our 1938 Vandercook letterpress to the festival and
allowed attendees to print their own bookmark using the slogan "A great library has something in it to offend everyone."
This guest, one of hundreds who stopped by the booth, was so taken with the saying that she asked for it to be printed on her arm. The library staff was happy to comply.