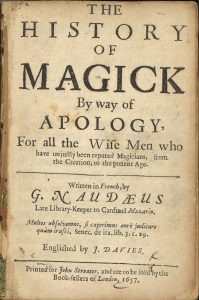 The history of magick, by way of apology, for all the wise men who haveunjustly been reputed magicians, from the creation, to the present age. Written in French by G. Naudæus … Englished by J. Davies. 1589
The libraries celebrated Halloween with a fall 2019 exhibition entitled All Hallows: Witches, Magic, and Things that Go Bump. The current October 31 festivities dates to the ancient Celtic festival of Samhain.   The Celtic new year began on November 1, and October 31 was viewed as the dividing line between the end of the harvest season and the onset of winter.  On the evening before the new year, the line between the living and the dead was blurred.  Large bonfires were lit against the darkness, and people wore costumes in order to ward off ghosts.
The library exhibit featured an array of rare items from the Special Collections Library and the History of Medicine collections.  A first edition of Mary Shelley's Frankenstein, grimoires and other books about magic, rare accounts of witch trials, as well as books on alchemy, tarot and divination, spiritualism, and fantastic beasts from the 16th, 17th and 18th centuries were all part of the display. Curator Teresa Gray shared her inspiration for the exhibition in a curator's talk.